SharKool Value Added Deals!!!

| | | |
| --- | --- | --- |
| Thinking about pressure washing your pool deck but don't know who to call or how much they will charge? You will receive a yearly complimentary pool deck pressure wash when you enroll in our auto debit program! Call the SharKool Pools team to get the details on how you can qualify! | FREE! FREE! FREE filter cartridge replacement when you refer three customers who sign up for either the SharKool Water Works or SharKool Frenzy service and keep their accounts in good standing for any quarter in the year! Call for additional details. | Learn about the many kool ways you can earn SharKool bucks! SharKool bucks that you can use towards service, equipment purchase, gift certificates and exclusive SharKool clothing and accessories! Call for additional details! |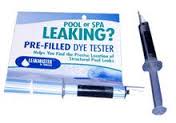 Leaks in a swimming pool can occur due to various reasons such as poor pool construction, prior repairs, age of pool, poor pool water chemistry, etc. These leaks should be addressed as soon as they are discovered. Besides having to be inconvenienced filling the pool on a daily or weekly basis or paying higher water bills, the pool water chemistry will be off; prompting the pool operator to add more chemicals to keep the pool clear of algae. This higher dose of chemicals can cause itchy skin, burning eyes, clothes discoloration and damage to the pool surface; resulting in an expensive pool resurfacing job.

SharKool Pools offers a flat rate leak detection service and repair. If you believe your pool has a leak, call us and let us find out for sure. Our leak detection experts will dive your pool and search for any obvious and hidden leaks. If we don't find the leak, you don't pay! You can't go wrong with an offer like that. So don't delay, call us today and we'll fix it right away!
---