OUR COMMITMENT TO YOU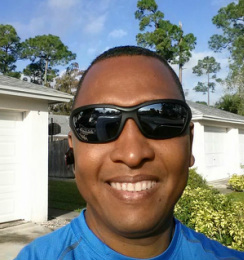 Sylvester "Sly" (as his friends know him) is the owner and operator of SharKool Pools™, Inc., licensed to conduct business in Palm Beach County. A U.S. Air Force Veteran and former Florida law enforcement officer turned entrepreneur. He has a vision to build a successful business the "old fashioned" way. That is with integrity, hard work, good quality service and a solid reputation.

"Here at SharKool Pools, we don't make a claim to fame, we don't claim to be the best, we simply let you compare us to the rest." --Sylvester--

For the past couple of years Sylvester has been an independent contractor applying his signature Aquatic Entertainment System Program™ (AESP) to pools in some of the most prestigious and exclusive neighborhoods in Palm Beach County. Upscale communities such as the Polo, Equestrian, Versailles, Olympia, Homeland, etc. where he has built a solid reputation as a hard working and knowledgeable pool operator who knows what he is doing.

By launching SharKool Pools, Inc. (his brain child) Sylvester has taken the game to a whole new level. Witnessing first hand the subpar work performed by many pool operators as he has taken over their accounts, then witnessing the excited look in the customers' faces when they see their pool sparkling and shining like never before, convinced Sylvester that he had a talent he needed to offer to more pool owners. That excited look in the customer's face followed by a big smile when they see their pool come back to life is the hallmark of the SharKool Pools, Inc. motto, "We put the kool back in your pool"™.

---